Bicycle Accident Claims
Cyclists are especially susceptible to injuries when sharing the roads with vehicles that are considerably heavier and traveling at a much faster rate. Bicycle accidents are often caused by drivers who are distracted or not giving sufficient attention to the road. If you have been hurt in a bicycle accident caused by negligent or aggressive driving, you may be eligible to receive compensation for your injuries.
At Peton Law, our skilled bicycle accident lawyers help injured cyclists get the compensation and justice they deserve. Located in Keizer, OR, our legal team can help you obtain economic as well as non-economic damages. If you need representation for a bicycle accident claim, get in touch with Peton Law to discuss your case and determine your next steps.
The Dangers Of Bicycle Accidents
Because there is much less protection on a bike compared to other transportation methods, cyclists are at an increased risk for serious injuries. Depending on the severity of the accident, a cyclist could have minor injuries, such as cuts and bruises, or extremely serious injuries, such as broken bones or a traumatic brain injury.
As a cyclist, you are vulnerable and exposed while traveling next to high-speed vehicles weighing thousands of pounds. When a driver injures you while you are riding, you need an experienced lawyer who is prepared to stand up for your rights.
At Peton Law, we firmly believe that people and companies should take full responsibility for their mistakes. We are prepared to fight for your ability to receive payment after an accident and represent you in your bicycle accident lawsuit.
What Is The Value Of My Bicycle Accident Injury Case?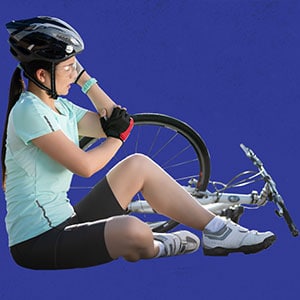 There is a lot that goes into establishing the dollar value of any personal injury case, including bicycle accident claims. The defendant's legal team, insurance companies, and the court – as well as our team – will consider details about your bicycle accident such as:
The severity and total cost of your injuries
The timeline for your full recovery
How your injuries have impacted and will continue to affect your life
Who was at fault in the accident
How much time and income you have missed from work due to the accident
If you will be able to return to your previous position
Any mental or emotional trauma you have suffered due to the accident
Whether any of your injuries could have been prevented by your own actions (e.g. wearing a helmet, riding on the correct side of the road, etc.)
And more…
Of course, you will want your medical bills and lost wages to be covered, not to mention the replacement or repair cost of your bike. You may be entitled to compensation for these losses, in addition to damages for pain and suffering, and loss of future earnings.
Our bicycle injury claims lawyers will be able to help you understand and determine how much your case may be worth. You can rest assured that the bicycle crashes attorneys at Peton Law will do everything possible to maximize your settlement and get you the financial recovery you deserve.
Getting Your Bicycle Accident Bills Paid When Insurance Companies Won't Settle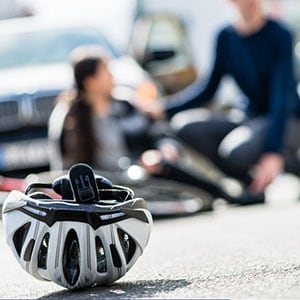 Insurance adjusters will often try to low-ball you, offering a settlement that doesn't cover your medical expenses – not to mention the pain and suffering you have experienced, or your lost wages. Insurance companies are notorious for trying to settle for the minimum amount possible to preserve their profits, sometimes offering to pay nothing at all.
Their greed shouldn't spell financial disaster for you. You have a legal right to seek proper compensation. If you've been injured in a bicycle accident and you want to receive the maximum settlement possible, you need an attorney who will fight for you to the fullest extent of the law.
The legal team at Peton Law is here to do just that. Peton Law bicycle injury claims lawyers can help you get the resolution you need to get back in the saddle again—both figuratively and literally.
TALK TO ONE OF OUR EXPERIENCED BICYCLE ACCIDENT ATTORNEYS NOW
Damages You May Be Eligible To Receive
Depending on the severity of your injuries, you may be eligible to receive compensation for the following expenses and damages:
Medical bills
Future medical bills and ongoing healthcare
Lost income, vacation, sick or personal time
Pain and suffering
Disfigurement or dismemberment
Emotional injury
Damage to your bike or property
And more…
A bicycle crashes attorney will be able to help with understanding the type of payments you may be eligible for in your bicycle accident claim.
Never Settle For Too Little
Seeking coverage for your medical expenses can be disheartening, frustrating, and unproductive—especially if you are dealing with insurance adjusters yourself. Personal injury protection insurance can cover some of your medical expenses, but these coverage limits are often inadequate for what you actually need.
If you have been involved in a cycling accident and your medical bills and lost wages exceed personal injury protection insurance limits, it is time to review your case with a qualified Oregon bicycle accident lawyer. At Peton Law, we know how to help you maximize your personal injury settlement while navigating the complexities of insurance, liability issues, and protecting your rights.
Working With A Bicycle Accident Lawyer At Peton Law
Attorney Neal Peton has been helping his clients navigate complex legal situations with compassion and competency for more than 15 years. Our firm's focus on personal injury cases means we have a thorough understanding of what it takes to achieve a successful outcome for our clients who have been injured in bicycle accidents.
At Peton Law, we are ready to discuss the specifics of your case with you to better understand your situation. Knowing your story and how your bike accident has impacted your life will help us determine how to proceed with your case. It will also help us gauge what damages you may be eligible for, and estimate the possible settlement amount.
You don't have to confront the legal challenges of your bicycle accident alone. Reach out to our firm in Keizer, OR, today to speak with an experienced bicycle injury claims lawyer, and let us fast-track your road to recovery.
More Information