Wrongful Death Claims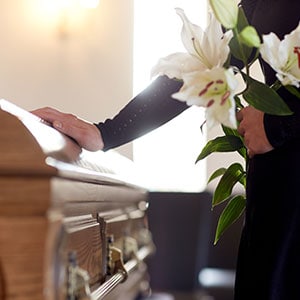 Nothing can compare to the pain and grief of losing a loved one, especially when it was caused by the carelessness or wrongdoing of others. No amount of money can replace a human life or justify such a significant loss. However, when a wrongful death impacts you or your family's financial security, there may be cause to bring a claim.
A wrongful death attorney can help you with filing a claim for both non-economic and economic losses. This might include medical bills, loss of income, or additional expenses. While recovering financial damages cannot make up for losing a loved one, it can at least relieve some of the stress that accompanies the sudden changes in income and expenses.
Peton Law—serving Keizer, OR, and the surrounding areas—has earned a reputation for helping clients recover the wrongful death compensation and justice they deserve. If you have lost a loved one, we will fight for you to the fullest extent of the law to make sure your family is taken care of in every way possible.
What Is A Wrongful Death Lawsuit?
Wrongful death is a broad term that describes any claim or lawsuit involving the death of a loved one or family member. The civil court legal system recognizes that the loss of a loved one causes not only immeasurable pain and sadness, but also economic and other losses.
For instance, that person may have been the financial provider for the family. Or, they may have been the caretaker for their children, and the family must now find another means of caring for their children. Their death may have created substantial medical debt that the family is now struggling to pay while they are still grieving.
The goal of a civil remedy in a wrongful death claim is to compensate for these types of losses. For example, the law awards money for the pain and suffering of losing a loved one. These types of awards are referred to as non-economic losses; they are difficult to value because there is no price tag for life.
A wrongful death claim can help recover the cost of medical expenses that were incurred after the person was hurt, but before they passed away. It can also offset the loss of the income they were earning or the cost to replace the services they provided.
Whether the death of a loved one is due to a car, truck or motorcycle accident, neglect of a loved one by a care facility, medical malpractice, or even intentional acts, the loss of life may be grounds for a claim against the party or parties responsible. If you believe you have reason for a wrongful death claim, our legal team is ready to listen and help you understand what to do next.
Special Considerations In A Wrongful Death Case
When a wrongful death tragedy strikes, there are many hidden considerations to take into account. For example, hospitals, medical providers, and secondary insurance providers can place liens on a settlement from an insurance company. Often, these liens can exceed the amount of the insurance benefits available.
In such instances, the grieving family has the added burden of possibly devastating financial losses. If you or a loved one find yourself faced with this type of situation, please reach out and speak with a wrongful death claim lawyer about how you can protect yourself from further financial losses.
The legal team at Peton Law is here to listen to your situation and offer direction and advice about your legal options. Our wrongful death law firm understands the unique and serious nature of these cases. We strive to offer our clients a personalized and compassionate approach to ensure that you are comfortable and heard throughout the entirety of your case.
How Much Is My Wrongful Death Case Worth?
Every case is different and there is no one-size-fits-all approach to seeking wrongful death compensation. Insurance companies often try to settle for as little as possible to maximize their profits. This is not helpful when you are trying to figure out how to move forward while still grieving and dealing with the shock of your loss.
While it may be difficult to state exactly how much your case is worth, our wrongful death attorneys can guide you through the process of your case and help you understand the potential settlement amount. We make a point to keep you informed of updates and changes along the way so you know what to expect.
What Are The Steps In My Wrongful Death Case?
Our wrongful death claim lawyers start by gathering all the evidence, then conducting interviews to establish the value of your case. We will also try to work with the insurance companies to reach an acceptable settlement.
If the insurance companies refuse to negotiate fairly, we may take the case to court and try it in front of a judge or jury. Our goal is to seek not just financial compensation for you, but justice for your departed family member.
At Peton Law, we pride ourselves on our human touch. We know these are difficult, often painful or emotional proceedings. We listen to and advise you without pressuring you to do something you don't feel comfortable doing.
We walk with you as a guide and a trusted advisor, but ultimately YOU decide how you want to proceed. We aim to provide legal counsel about your situation and take the legal action you wish to pursue.
Damages You May Be Eligible To Receive
There is a wide range of damages that you could be awarded in a wrongful death case. Depending on your unique circumstances, you may be eligible to receive compensation for the following expenses and damages:
Medical bills
Future medical bills and ongoing healthcare
Lost income, vacation, sick or personal time
Pain and suffering
Disfigurement or dismemberment
Emotional injury
Wrongful death
Property damage
Diminished value of your vehicle
And more…
In some instances, you could also receive punitive damages, which penalize the party at fault. The goal of this type of compensation is to help prevent occurrences of a similar nature from happening again.
As your wrongful death attorneys, we consider all of the possible ways that you or your family have been or could be affected by the loss of your loved one. From there, we will gather evidence in support of these impacts and clearly present this to insurance companies, and the judge or jury if your case moves to court.
Working With A Wrongful Death Attorney At Peton Law
Lead attorney Neal Peton has over 15 years of legal practice under his belt, and he is passionate about helping his clients get through their legal challenges. At Peton Law, we put our knowledge about and experience in personal injury and wrongful death cases to use in each case we take on.
However, we also recognize that every case is unique and may be different from the cases we have seen previously. That's why we make a point to listen to your story and understand your situation so we can best represent you. From hearing your story to offering legal advice, our wrongful death law firm will be by your side throughout the process of your case, fighting on behalf of you and your loved ones.
If you have lost a loved one from the carelessness of another party, please do not hesitate to reach out to our firm in Keizer, OR. Our wrongful death claim lawyers can be reached at (503) 877-3416, and will be happy to support you in any way we can.
More Information