Personal Injury Claims
Personal injury law involves civil cases where an individual who has been injured obtains compensation from the party responsible for causing their injuries. A broad category of law, personal injury cases can include:
Automobile accidents
Public transit accidents
Airline accidents
Accidents that occurred at work
Construction site injuries
Slip and fall injuries
An injury from using an unsafe or faulty product
Other situations that have caused harm
If you think you have reason for a personal injury claim, it's important that you reach out to a personal injury attorney right away. The sooner you contact us, the sooner we can begin our investigation to find evidence to support your claim.
What Is A Personal Injury Or Tort Claim?
A personal injury or tort is a type of claim in civil court that seeks damages for a wrong that has been done. Torts can be separated into three different types:
Intentional Torts – For example, the act of intentionally hitting someone.
Negligent Torts – Such as causing a crash to occur from disobeying traffic rules.
Strict Liability Torts – Harm caused through manufacturing and selling defective products.
Any wrong that results in an injury constitutes the basis for a personal injury claim by the injured party, known as tort litigation. While some torts are also crimes and punishable in criminal court by imprisonment or fines, torts in civil court seek relief for the damages incurred.
If there is a physical injury, such claims are often called personal injury or bodily injury claims. In these cases, the injured party may receive a personal injury settlement. This may include recovering reasonable medical expenses, money for pain and suffering, and loss of their earning capacity. Both present and future expected losses should be considered in a personal injury settlement.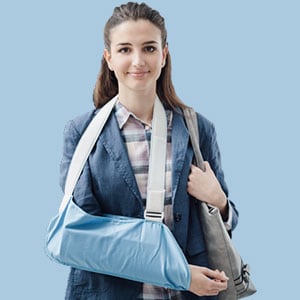 Who Do I File My Personal Injury Claim Against?
As your personal injury attorneys, we can help you figure out who you should file a claim against. In some cases, you should file a claim against the person who caused your injury. Other times, it may be a small business or large organization, such as an insurance company. In some instances, it may be necessary to file a claim against multiple parties who are involved.
At Peton Law, we understand how overwhelming a personal injury claim can be. Our personal injury lawyers are ready to guide you step-by-step through the process – from filing your initial personal injury claim to filing a personal injury lawsuit and beyond.
What Constitutes A Personal Injury?
Almost any physical injury could lead to a personal injury claim if it is serious enough to have a significant impact on your life. Some of the injuries frequently seen in personal injury cases include the following:
Head, neck, and spine injuries
Burns
Broken bones
Loss of a limb
Paralyzation
And more…
Physical And Psychological Injuries
It is important to note that a personal injury isn't always just physical; the injury could also be psychological. A psychological injury may involve any number of physical injuries and may manifest as mood or emotional injuries (such as depression, anxiety, or chronic fear), or post-traumatic stress disorder (PTSD). The cause of psychological injury can result from:
Life-threatening or disfiguring physical injury
Witnessing close family members experience trauma (also called bystander trauma)
Narrowly escaping a serious injury during a traumatic event
The exacerbation of a pre-existing condition due to negligence or injury
Loss from inability to do what you could before the incident
Loss from being able to work as you could before your accident
And more…
Like physical injuries, psychological injuries can also have a monumental impact on a person's life, as well as their ability to provide for themselves or their family members. If you've suffered either physical or psychological trauma that was caused by someone else, reach out to Peton Law today.
Damages You May Be Eligible To Receive
The exact amount of your personal injury settlement will depend on how serious your injuries are, as well as other factors. You may be eligible to receive payment for the following expenses and damages:
Medical bills
Future medical bills and ongoing healthcare
Lost income, vacation, sick or personal time
Pain and suffering
Disfigurement or dismemberment
Emotional injury
Property damage
Diminished value of your vehicle
And more…
In many cases, you may also be awarded punitive damages, which are meant to penalize the negligent party for their wrongdoing and to deter future negligence. Our firm can help you determine the type of compensation you could receive and assist you in maximizing your personal injury settlement.
Insurance companies will often try to settle with you early by offering a lower amount that they hope you will take. This is rarely the full amount that you should receive, and it is generally not a good idea to accept it. If an insurance agency reaches out to you about a settlement, you should contact your personal injury lawyer for guidance.
What Is Comparative Negligence?
Comparative negligence occurs when you do not act reasonably to prevent personal injury and both you and the other party at fault to some degree. This often occurs with car accidents, for example, where both parties may have contributed to the accident in some way.
However, even if the accident is partially your fault, that does not mean you should not be compensated for your injury. Regardless of who was at fault, you deserve to be reimbursed for the physical, psychological, and financial losses you have incurred. A personal injury attorney can help you get compensation for medical costs, lost income, and your pain and suffering.
Peton Law: We're In It To Win It — For You!
Personal injury attorney Neal Peton has handled countless personal injury cases, and he understands the stress and frustration you are facing after a serious injury. If you have been injured due to the negligence of another party, you need a legal advocate who will fight hard to get you the compensation you deserve.
At Peton Law, we have both the experience and the skills needed to take on even the most difficult personal injury cases. We are committed to protecting the rights of those who are wrongfully injured, so you can move forward in your recovery. When you engage us to represent you, we're in it to win it—for YOU.
You should never have to endure suffering caused by another's negligence. If you have been harmed due to a wrongful or neglectful act, you deserve justice. Our personal injury attorneys will help you obtain the settlement you need to reimburse you for your losses.
For professional legal assistance in your personal injury case, contact the capable personal injury attorneys at Peton Law today. Our office in Keizer, OR, can be reached at (503) 877-3416.