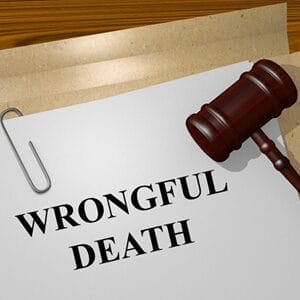 In this article, you can discover:
Why the specifics of your case will impact your claim and settlement options.
How the value of a wrongful death claim is calculated.
The benefits of having an attorney in a wrongful death case.
What Are Wrongful Death Claims Under Oregon State Law?
A wrongful death claim under Oregon State law is a legal action brought against someone who has acted negligently and caused the death of another person through their negligence. This is a form of recovery for the loss of life due to the actions of another party. These cases are always tragic and often involve the loss of a loved one.
Who Can Bring A Wrongful Death Case In Oregon?
In Oregon, the personal representative of the deceased person's estate is the one who can bring a wrongful death case. The personal representative oversees the deceased person's estate and can be identified in a will or appointed by the court.
For example, if John Doe passes away in an accident, and his wife, Jane Doe, is the personal representative, she would bring the action as the personal representative of John Doe's estate. If John Doe didn't have a will, a court-appointed personal representative would be necessary, for which an attorney should be consulted.
How Do You Prove Negligence In A Wrongful Death Case?
Proving negligence in a wrongful death case is similar to proving negligence in any other legal case. It involves investigating the cause of the accident and determining who was responsible.
In cases where the deceased is no longer alive to provide testimony, gathering evidence may be more challenging. However, the same process is followed, focusing on understanding how and why the person passed away and what led to the fatal event.
In a wrongful death case stemming from a motor vehicle accident, the focus would be determining the cause of death and identifying the responsible party.
How Is The Value Of A Wrongful Death Claim Calculated?
Calculating the value of a wrongful death claim is a challenging and emotional task. In Oregon, the value of a wrongful death claim is divided into two categories: economic damages and non-economic damages.
Economic damages are losses that can be assigned a monetary value, such as medical bills or lost wages.
The economic damages calculation considers the medical expenses incurred by the deceased before they passed away, as well as any future wage loss that would have been incurred if they were still alive. If the deceased was not working, their contribution to their household, (such as homemaking tasks or childcare), must also be considered.
Non-economic damages are losses that cannot be assigned a monetary value, such as the pain and suffering of the deceased or the loss of companionship to their loved ones.
The valuation of non-economic damages is almost impossible, as they are priceless. The trauma and grief associated with the loss of a loved one makes calculating the value of a wrongful death claim even more challenging. An attorney works for the surviving family and acts as an advocate, ensuring that their interests are protected and that they receive fair compensation for their losses.
What's more, having an attorney in a wrongful death case can provide significant relief for surviving family members, as an attorney can handle the legal aspects of the case, freeing up the surviving family members to focus on grieving and moving forward.
What Is The Statute Of Limitations For Filing A Wrongful Death Claim In Oregon?
In Oregon, the statute of limitations for filing a wrongful death claim is generally three years. However, there are instances where this timeline may be shortened, such as in claims against public entities. It is advisable to consult with an attorney to understand the specific facts of an individual case and the applicable statute of limitations.
With the guidance of a skilled attorney for Wrongful Death Cases, you can have the peace of mind that comes with knowing that we'll make it look easy. For more information on Wrongful Death Claims in Oregon, a free initial consultation is your next best step. Get the information and legal answers you are seeking by calling (503) 877-3416 today.