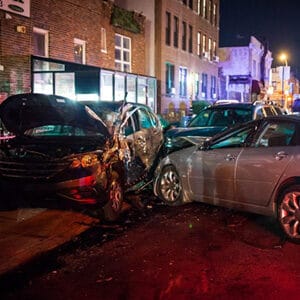 In this article, you can discover:
The steps involved in filing a personal injury claim after a car accident.
Why it's important to seek medical attention immediately after a car accident, even if you don't feel pain or symptoms.
The implications of being partially at fault for a car accident.
What Steps Should I Take To File A Personal Injury Claim?
The first step in filing a personal injury claim after a car accident is to call your insurance company and start a Personal Injury Protection (PIP) claim. Then, you should contact the other driver's insurance company to make sure they have coverage.
When speaking with the other insurance company, it's essential to avoid giving a recorded statement as it can cause difficulties later on in the case. Finally, it's important to reach out to an attorney.
How Important Is It To Seek Medical Attention Immediately After A Car Accident?
If you are in a car accident, it's a good idea to see a doctor as soon as possible, even if you don't feel any pain or symptoms at first. If you are feeling pain or having any signs of health issues, it's crucial to seek medical attention immediately.
Remember, your car insurance policy likely includes PIP coverage, which is health insurance covering medical expenses if you were injured in a car accident. So, you likely don't have to worry about the cost of seeing a doctor and getting checked out if you're feeling pain or having issues.
Once I Hire A Salem County Car Accident Attorney, What Information Is Critical To Share?
When hiring a car accident attorney, it's crucial to provide them with information about the accident, including insurance information, the date of the incident, and the other driver's identity. Additionally, sharing other facts about the accident, such as how it happened, is critical to the success of your case.
If I Was Partially At Fault For My Car Accident, Will That Impact My Marion County Personal Injury Claim?
In Oregon, the other driver must be at least 51% at fault for you to recover in a personal injury claim. If you believe you contributed to the accident or have some responsibility, it's essential to talk to an attorney to assess the situation and see if other factors could change or even strengthen your case.
Will The Insurance Company Have Access To My Past And Present Medical History? Will Any Of My Past Injuries Or Illness Impact My Case?
Both your insurance company and the other driver's insurance company will need access to your medical records once you file a personal injury claim.
Your insurance company will need to see all medical records and bills to pay the accounts under your PIP coverage. The other party's insurance company will also need your documents, but it's essential to be in control of what information is released to them and not give a blanket authorization for them to access your medical records. This is because by controlling what information is disseminated, you can avoid the risk of the other insurance company obtaining irrelevant or sensitive data from your medical history.
How Long After A Car Accident Can I File A Personal Injury Claim In Oregon?
According to Oregon law, the statute of limitations for filing a personal injury claim after a car accident is typically two years. However, in some cases, the time frame can be shorter.
For example, if the accident involved a public entity, (such as a city bus or a police car), the statute of limitations may be as short as six months. Additionally, the statute of limitations may vary for minors, who typically have a longer period of time to file a claim.
What Happens If I Was Hit By An Uninsured Or Underinsured Driver In Oregon?
If you were involved in a car accident with an uninsured or underinsured driver in Oregon and you have car insurance, you may be able to recover financially from your injuries. Oregon law requires that every car insurance policy include coverage for uninsured or underinsured motorists.
This means that if you were hit by an uninsured driver and you have insurance, your insurance company will handle the damages. If the other driver's insurance policy limits have been exhausted, your policy will provide benefits under underinsured motorist protection.
Do I Need To Hire A Personal Injury Attorney If The Other Driver Was At Fault?
Even if it is clear that the other driver was at fault in the car accident, it is still advisable to hire a personal injury attorney.
Determining fault is just one aspect of a car accident case – there may be other disagreements about issues such as the cause of your injuries. For example, while the defendant is responsible for the injuries they caused, there may be differing opinions on what injuries were caused by the accident.
An attorney can help navigate these complex issues and ensure you receive the full compensation you are entitled to.
With the guidance of a skilled attorney for Auto Accident Cases, you can have the peace of mind that comes with knowing that we'll make it look easy. For more information on Auto Accidents Law in Oregon, a free initial consultation is your next best step. Get the information and legal answers you are seeking by calling (503) 877-3416 today.